A Simple Guide To Small Business loans
Most small businesses use finance when they're starting out. Access to finance can also help you manage your cash flow, cover unexpected expenses and purchase the equipment you need to grow. Different loans are designed for different circumstances so it's important to find one that meets your needs in a cost-effective way. To help you get started, we've taken a look at the pros and cons of some of the most popular options.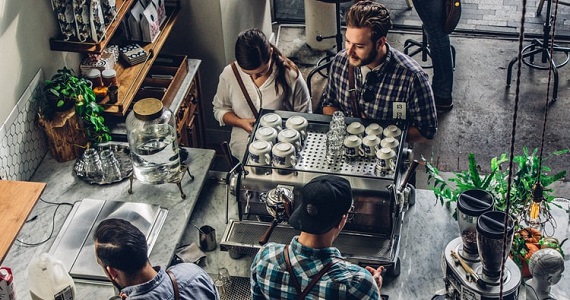 An overdraft or line of credit
How they work
Both an overdraft and a line of credit can provide access to revolving credit, which means the money you repay is available for you to use again as you need it. An overdraft allows you to overdraw on your business bank account up to an amount approved by your financial institution. A line of credit may take the form of a business credit card or a debit card linked a separate account. Both can be useful for smoothing your cash flow or provide a useful source of short-term capital.
Pros:
Flexibility – you can use funds as you need them and repay the loan at your own pace.

If they're well-managed, they can help to establish a good credit history for future borrowing.

A line of credit is available whether or not you have money in your account.
Cons:
With an overdraft, you may have to pay fees even when you're not using the facility.

You may have to pay a penalty fee if you exceed your overdraft limit.

Some business lines of credit need to be secured, so you may need to use your home or business property or other business assets as collateral.
Term loan (secured or unsecured)
How it works
A term loan has an established repayment schedule over a number of years – anywhere from one to 25 – and can have a fixed or variable interest rate. This type of loan can be used for plant & equipment, core inventory acquisitions or another business purpose as well as business start-up costs.
Pros:
You can choose the type of term loan that provides more flexible repayment options, including fixed, variable and split rates.

Repayments can initially be interest-only to assist with business cashflow requirements.

You may be able to borrow relatively large sums over a longer term at a relatively low interest rate.

Ideally you will match the term of the loan to the lifespan of the underlying asset.
Cons:
The application process can be time-consuming and demanding.

You may have to provide property or business assets as security.

If you choose a variable interest rate your repayments will increase whenever interest rates rise.
Commercial property loan
How it works
A commercial property loan will enable you to purchase rather than lease your business premises. It's similar to a home loan but tends to be for a shorter period and the lender will take things like the nature and location of your business into consideration.
Pros:
Rather than paying rent, you'll be investing in a capital asset.

As you pay off the loan, you may be able to use the equity to grow your business.

You may be able to claim depreciation of fixtures and fittings.

Can also be used to purchase commercial investment property.
Cons:
If you choose a variable interest rate, your repayments will increase whenever interest rates rise.

Many lenders require a personal guarantee, so assets such as your family home could be at risk.

You'll need to factor in expenses such as rates and repairs, which are normally covered by a landlord.
Hire purchase
How it works
Hire purchase can be a good choice if you can't afford to buy an asset outright but eventually want to own it. A lender purchases the equipment on your behalf, and you hire it from them for an agreed period of time. You take ownership when the purchase price and interest have been paid in full.
Pros:
Hire purchase can be flexible, with a choice of contract lengths and, in some cases, the option of a final balloon or residual payment to reduce monthly outlay.

Interest is usually fixed, so it's easy to budget for your payments.

You may be able to claim appropriate tax deductions.
Cons:
Interest can add significantly to the cost.

Some lenders require a deposit.

You don't own the asset until it's fully paid for so, if you default, you could lose the asset and the payments you've already made.
Looking for more information on what's right for you?
Each type of loan includes products with different interest rates, fees, features and limitations. A professional mortgage broker understands all of the available options and can help you find the best solution for your business.
Please contact us on |PHONE| to seek further information on this topic.
(C) Advantedge Financial Services Holdings Pty Ltd ABN 57 095 300 502. This article provides general information only and may not reflect the publisher's opinion. None of the authors, the publisher or their employees are liable for any inaccuracies, errors or omissions in the publication or any change to information in the publication. This publication or any part of it may be reproduced only with the publisher's prior permission. It was prepared without taking into account your objectives, financial situation or needs. Please consult your financial adviser, broker or accountant before acting on information in this publication.
Important: Any links have been provided with permission for information purposes only and will take you to external websites, which are not connected to our company in any way. Note: Our company does not endorse and is not responsible for the accuracy of the contents/information contained within the linked site(s) accessible from this page.